Registration Information and Admissions Process
Registration Fee and Dates
Current HGCS Students
Prospective New Students
REGISTRATION FEE (K5 - 12TH GRADE):
REGISTRATION FEE: $250.00 (January - May 31)
LATE ENROLLMENT REGISTRATION FEE: $500 for current and new students (June 1 and later)
-Registration fee is non-refundable
-Registration fee is not applied toward tuition
REGISTRATION DATES:

RE-ENROLLMENT - January 4-15, 2021 for current HGCS students

NEW STUDENT ENROLLMENT:
ONLINE APPLICATIONS WILL BE AVAILABLE AS FOLLOWS:
January 4 - 15, 2021 - Siblings of current HGCS students and HGCS Early Education Center students
Monday, January 11, 2021 - Hickory Grove Baptist Church Members
Tuesday, January 19, 2021 - Open to the Public
If you are submitting a new application for an HGCS sibling or an HGCS Early Education Center Participant, you will need to complete an online application beginning Monday, January 4, 2021. To secure a position for your child, this online application must be submitted by Friday, January 15, 2021. A link to the online application can be found below.
If you have any questions, please contact the admissions office at 704-531-4198.
Securing a position for the 2021 - 2022 school year does not indicate acceptance to HGCS.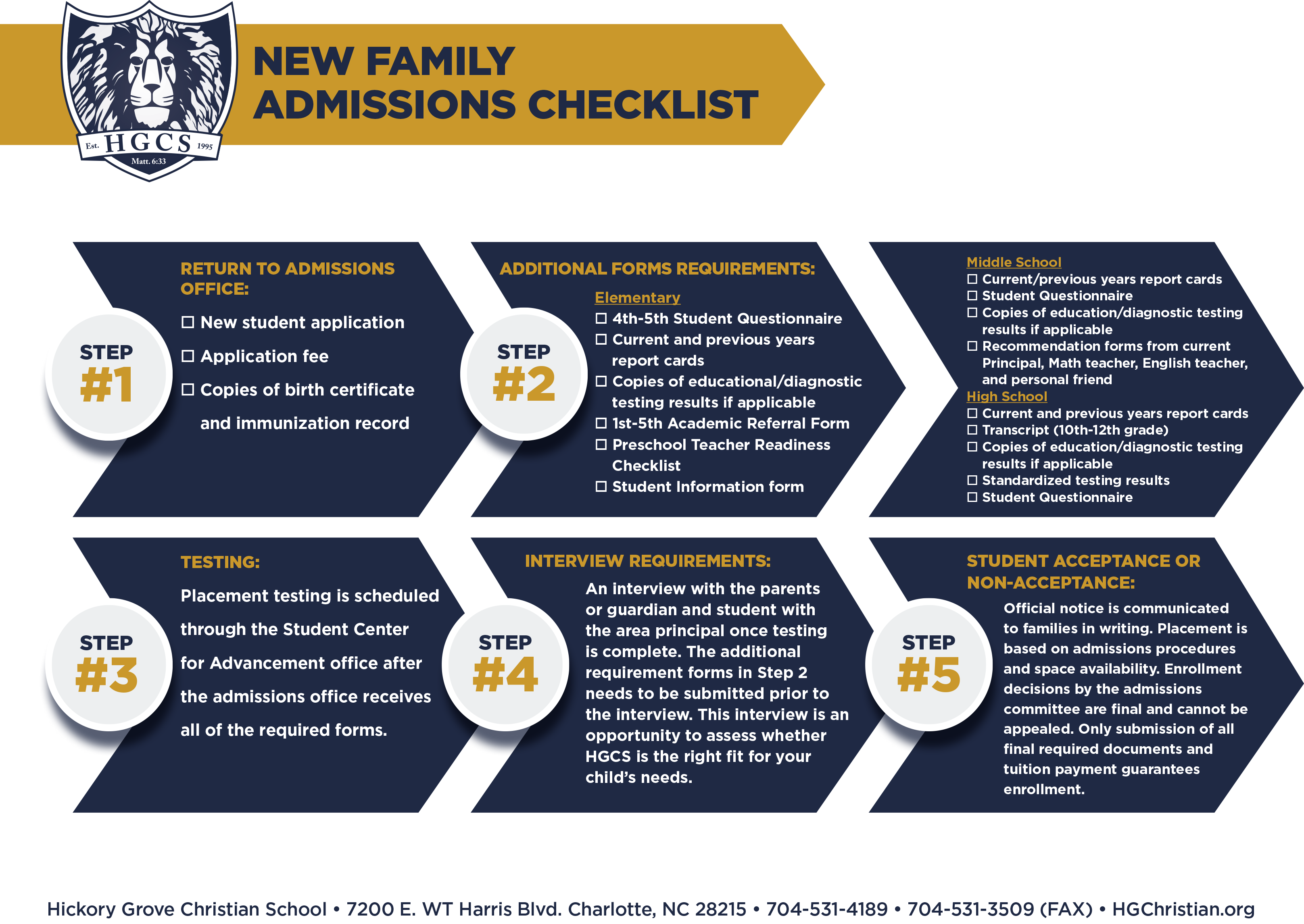 Prospective New Students:
January 11, 2021 - Online applications are open only to Hickory Grove Baptist Church members.

January 19, 2021 - Open to the Public - Online applications will be processed on a first-come, first-serve basis for all that apply.
Non-Discriminatory Policy:
Hickory Grove Christian School admits students of any race, color, and national or ethnic origin to all the rights, privileges, programs, and activities generally accorded or made available to students at the school. HGCS does not discriminate on the basis of race, color, national or ethnic origin in administration of its educational policies.
Admissions Office:
For more information regarding the application process, please call our Admissions Office at 704-531-4198, Monday through Friday, 7:30 AM - 3:00 PM or email