Arts
"Soli Deo gloria"
Click here for Beauty and the Beast audition information and rehearsal schedule.
HGCS has a steadily expanding Fine Arts Department consisting of:
Concert Band - Beginner (6th grade), Intermediate (7th/8th grade), Advanced (high school)
High School Jazz Band
Drama - Middle and High School classes, Honors Drama
Music - Early Education and Elementary classes, Middle School Chorus, High School Choir, Honors Ensemble
Musical Theater - Musical Theatre I and II
Visual Arts - Early Education, Elementary and Middle School classes; Art I, II, III, and IV, AP 2D Design, Art Appreciation
Student Media - Photojournalism, Journalism, and Design, Honors Student Media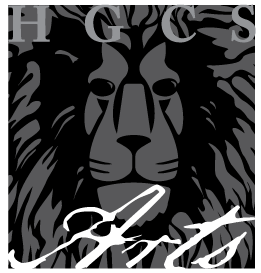 Each of these classes trains students to build skills and develop their creative talents to use for a future career in the arts and in service to the Lord.
All Fine Arts courses allow students to gain performance, exhibition, and competition experience. The performing arts students in band, choral, drama, and musical theater classes perform regularly in chapels, lunch performances, and end-of-the-semester concerts.
Band students participate in at least one adjudicated festival. Drama students perform in three productions yearly as well as compete in the Fall. Choral students perform in the community, statewide festivals, and out-of-state tours. The performing arts department produces a Spring musical once every two years with elementary, middle and high school students.
The Visual Arts classes exhibit their work throughout the school year and compete in private and public art competitions.